Propargyl alcohol 107-19-7
Product Detail
Product Tags
Appearance: Colorless liquid
Purity: 99%min
Water: 0.1%max
HCHO :0.1%max
Color(Pt-Co): 5max
☑ An important intermediate in organic synthesis. In the pharmaceutical industry, propargyl alcohol is an important intermediate in the synthesis of fosfomycin sodium, fosfomycin calcium, sulfadiazine, and is also used in the production of acrolein, acrolein, vitamin A and other medical products. In the pesticide industry, it is used to synthesize kermite pesticides.
☑ It can improve polishing efficiency as brightening agent(for electroplating)
☑ An important rust remover. Propargyl alcohol and its downstream compounds are widely used in the steel industry as they can inhibit acid pairs such as acetic acid, phosphoric acid, sulfuric acid and hydrochloric acid from the corrosion of iron, copper, nickel and other metals.
☑ It is used in oil extraction and used as solvent,herbicides and bactericide.
180kg/drum
UN No.2929, Class:6.1,Packing group:II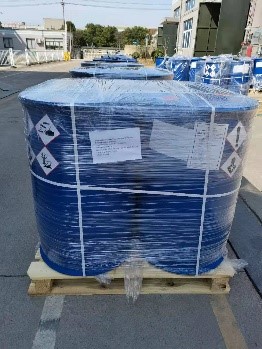 ☑ More than 30 years production experience;
☑ Registered material under EU-REACH regulations;
☑ Product approved by multinationals in several industry;
☑ Just-in-time Delivery:1 week lead time.
☑ We have complete quality management system, not limited to sampling, method of analysis, sample retainment, Standard operation process;
☑ Freemen ensures the consisitency of quality, the strict process of management of changes is followed, including process and equipment, raw material supplies, packing;
☑ The sample could arrive in your hands within 20 days for international customers;
☑ The minimum order quantity is based on one package;
☑ We will feedback to your enquires within 24hours, Dedicated technical team will follow up and ready to give solutions if you have any request;
Welcome contact for more details!
---
Previous:
Para Chloro Phenol 106-48-9
Next:
Acrylonitrile 107-13-1
---